My first shot at 1MORE in-ear headphones was the Triple Driver and as I recall it wasn't bad for the price. Well now 1MORE is introducing a brand new earphone with Quad Driver technology inside. But is one more driver really going to make a big difference? And does it have the Hi-Res sound as promised on the packaging? There's really only way to find out if the 1MORE Quad Driver In-Ear Headphones are worth the $200 price tag. Lets run it through a full review.
1MORE Quad Driver In-Ear Headphones Review
In The Box
Inside the fancy packaging of the 1MORE Quad Driver Headphone box is an assortment of useful accessories designed to give you a great in-ear fit and a way to take it all on the go. Here's what you'll get.
1MORE Quad Driver In-Ear Headphone
9 sets of ear tips (6 silicone and 3 foam)
1 Airplane adapter
1 1/4″ adapter
1 Shirt clip
1 Leather Travel Case
Build
The Build quality of the 1MORE Quad Driver In-Ear Headphone seems quite good. The aluminum housing is as durable as it is stylish and the Kevlar cable feels tough and ready to last. The angled ergonomic design of the 1MORE Quad Driver is one I'm starting to see in other earphones as well and it seems to work well. This allows the housing to be a little bit wider and also angles the audio into the ear canal. The 3-button control for smartphones snap on command and feel sturdy to the tough. Finally, the gold plated 1/8″ (3.5mm) plug looks and feels like a plug designed to last. I especially like the L-shaped design as it works better with smartphone when they're in your pocket.
Comfort
The 1MORE Quad Driver In-Ear Headphone is a futuristic looking earphone but the ergonomic design and 9-sets of ear tips make this "bigger looking" earphone a nice fit. The most important part of getting any in-ear headphone set up is to get the right set of ear tips. Personally I prefer the foam tips as they seem to provide the best comfort and isolation. Some people will prefer the silicone tips however and you've got many sizes to choose from so test many to get the perfect fit. A comfortable fit and isolation are incredibly important to getting the best out of any in-ear headphone and the 1MORE Quad Driver headphone is no exception. The housing is a bit large but a lot of good earphones are. The housing, although aluminum is a little weighty so you really have to get the right fit.
Features
As you might have guessed, the main feature of the 1MORE Quad Driver In-Ear Headphone is… the 4 drivers. This is actually a form of hybrid driver technology too because the 1MORE Quad Driver uses 1 Diamond-Like Carbon Driver (for mids & bass) and 3 balanced armature drivers for the higher frequencies. According to the specifications, the 1MORE Quad Driver In-Ear Headphone has a frequency range of 20Hz – 40,000Hz. Combine these factors with the gold plated 3.5mm plug and "Oxygen-Free Copper Wire" and you've got a winning formula for great sounding audio.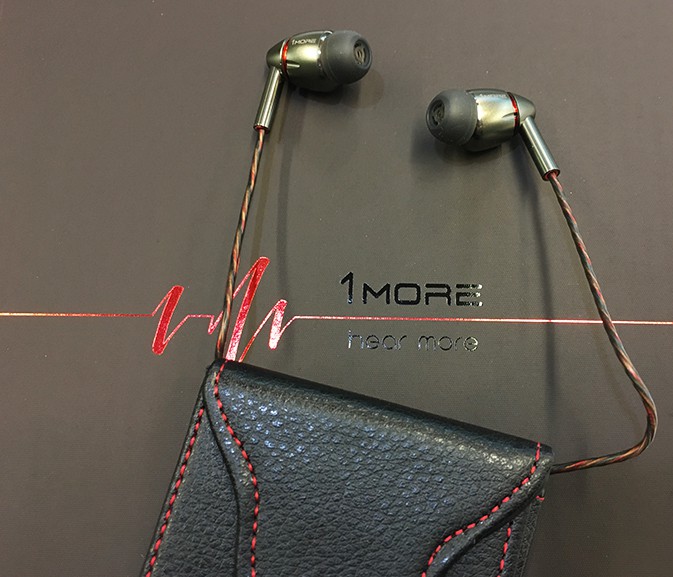 Sound
Looking at the specs, the frequency range, the aluminum housings and the 4-drivers in this 1MORE in-ear headphone I had great expectations. But at first listen I felt like something wasn't right. This setup of drivers alone should cover the entire frequency spectrum and have plenty left over. I seemed to be getting mixed results with different tracks though. Some songs sounded amazing and full and others seemed to be missing something. I also noticed that even though this earphone has an impedance of 32 Ohms I got to the top of my volume on my smartphone which is rare. So I tried something I wouldn't normally try on an earphone that has inline controls and microphone for that's clearly designed for use with smartphones. I used an amplifier. The combination of DAC and amplifier (specifically the Audioquest Dragonfly Red) made a world of difference.
Bass
The bass on the 1MORE Quad Driver In-Ear Headphone was phenomenal. The dedicated "Diamond-Like Carbon Driver" brought out the bass with precision and force. Electronic music with sub-bass lines came to life. Rock music was gritty and grungy in all the right places. Balanced yet full when the mix demanded it.
Mids
The mid frequencies are where the 1MORE Quad Driver really shines. Vocal, hi-hats, snares, all that good mid-range stuff… all present and clear. I can't tell you how many headphones neglect the mid-range for more bass and top end. Of course too much mids can be bad too. It's a delicate balance. There were only a couple songs that hit a little too hard in the mid-range frequencies but sometimes that's just how it was recorded or mastered.
Highs
The high frequencies were excellent. This is always a treat because when you properly top out your frequency range at 40kHz you'll hear details in mixes you didn't hear before. And it doesn't feel overdone either. Sometimes a high frequency range can have you squinting like you have a headache. Manufacturers get so desperate to reach that range that it misses out on the bass and mids. The 1MORE Quad Driver seems to be the right balance. Using 1 dynamic driver on the lows and mids and 3 balanced armatures for everything else seems to be a good combination.
Summary
The verdict is out on the 1MORE Quad Driver In-Ear Headphone and the word is good. In addition to all the accessories the 1MORE Quad Driver has a decent fit and audiophile quality sound exceeding the expectations of a "Hi-Res" audio device. Although it is designed to work with smartphones, a small amp might do it good. You be the judge. Overall I was impressed with the quality of sound and all for just under $200. Not a bad piece of gear at all. Check one out at your local authorized dealers or on Amazon
Specifications
In-Ear
Weight: 18.5 g
Cable Length: 1.25 m
In-line Remote Control and Microphone
Oxygen-Free Copper Wire
Plug: 3.5 mm Gold Plated
Frequency Range: 20-40,000 Hz
Impedance: 32 Ω
Sensitivity: 99 dB
Rated Power: 5 mW