Based in St. Petersburg, Russia, headphone company Kennerton is continuing to garner more popularity for their high-end headphones as they further expand their reach and availability. I'm getting closer to having tried their entire product line now, having listened to the Magni, Vali, Gjallarhorn, Wodan, Thekk, and Thror. Today, we'll be looking at the Rognir, a planar magnetic, closed back over-ear which was released in a limited first edition. The Rognir is one of Kennerton's priciest model, running for $3,429. I've tried Kennerton models near this price, and been extremely impressed, so I had high hopes for the Rognir as I plugged them in for a first listen. 
Click Here to watch my video review of the Kennerton Rognir!
What's in the Box
Kennerton Rognir
Leather carrying case, with detachable strap
Custom Litz cable, mini XLR to 4-Pin Balanced XLR
Adapter with 4-Pin Balanced XLR to 6.3mm TRS
Standard mini XLR to 6.3mm cable
Look and Feel
These have the signature Kennerton look with their vintage inspired, polished-wood build. They're definitely a larger headphone and weigh in at 406 grams. While their size may not make them the optimal choice for on the go use, I never felt any sense of discomfort wearing these while relaxing at my desk. With their arching metal frame and plush, automatically adjusting headband, the Rognir strikes a good balance of durability and comfort while still maintaining a luxurious appearance.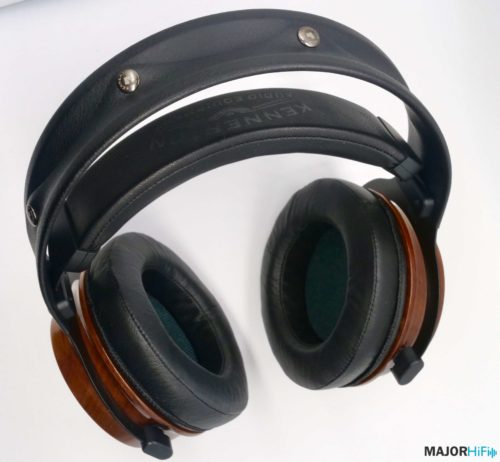 Design
The Rognir is Kennerton's first planar-magnetic headphone, and they claim that despite it being a closed back, it matches the sound of open-back headphones in many ways. Kennerton designed their own 80 mm driver from scratch for these, wanting to combine the sounds of dynamic and electrostatic technologies. Using "several patent-pending core innovations," Kennerton implemented a magnetic structure onto this driver that they claim reduces excess resonance and unifies "magnetic field distribution over the total frequency range." 
These have a frequency response of 10Hz – 55kHz and an impedance of 42 Ohms.
Soundstage
The Rognir has a colored, distinctive sound that feels aimed at those with a particular, seasoned taste. This is not to say they're exclusively an acquired sonic taste, but in the world of high-end headphones, these feel like they know their audience well and take advantage of what some non-audiophiles might consider an A-typical sound. Their soundstage is the first piece in this unique puzzle, performing stellar sound separation and extreme accuracy. 
Every closed back I've tried from Kennerton has had unusually large width, as the company claims, and the Rognir may be one of their most impressive soundstages I've heard yet. Mixes are given a ton of transparency, I was able to hear reverb tails, stereo positioning techniques, and unique timbres in songs I'd never noticed in prior listens. At first, this felt almost jarring. It felt like the curtain had been ripped away from these songs and I was suddenly experiencing an unmasked, uninhibited version of them. As I got used to it, however, I came to love the unfamiliar type of engulfment the potent airiness the Rognir offers.
Lows
Like many Kennerton headphones, these do not go for a ton of intensity in the low end. A tight grip is kept on the bass response to ensure the Rognir maintains maximum control over these frequencies. Sub frequencies are present but very conservatively implemented. However, the impact of the low end on the Rognir is what really brings it home. Despite these headphones not having a heavy bass response in terms of their actual leveling of lower frequencies, they still can create a great attack sensation through their extremely tight dynamics and width. Listening to Tame Impala's "Reality in Motion," the heavy kick drum gets a widened stereo image as it creates a tight rumbling that feels as if it expands beyond the walls of the headphones. 
Mids
The mids on the Rognir are what stuck out about it most. The mids on these definitely have a kick to them, some added spice. Some clean saturation and coloring definitely felt present here. There seems to be a steady bell peak overarching the low and high mids. What makes this peak work so well is how holographic and lofty the Rognir handles it. It's not remotely stuffy, overly-biting, or harsh. If you want a super recessed mid range, maybe these aren't calling your name, but even for the mid-averse, the Rognir seems to serve up a masterful mid-boost. Listening to NAO's "Yellow of the Sun," the bright, resonant vocal flows seamlessly out of the Rognir. The unique textures of each note are clear and crisp from chest to head voice. The huge soundstage on these allows the mids so much room to oscillate and intertwine without every crowding or over-extenuating themselves. 
Highs
These are bright, but the shine is not immediately obvious. The Rognir takes a very softened, delicate approach to the high end, giving us detail and intricacy without creating a distracting hiss or crackle atop each song. While vocals are given increased texture in this area in tandem with the midrange boost, sibilance still feels completely avoided. It's a very natural high end, one that in many ways mimics our normal hearing, but with some heightened perceptiveness. Listening to Jungle's "Keep Moving," the string stabs are dressed up with a purified sheen. The Vocals get some heightened movement in their articulation, and the rest of the instrumentation is given an even showering of colored brightness with a lite, satisfying sizzle to it. 
Overall
The Rognir feels like a semi-niche, extremely special headphone. It's not quite like any headphone I've heard before; maybe not in a drastic way, but there's certain nuances to its sound that felt very foreign and refreshing to me. Those who can swing the price tag and are looking for a headphone with next-level sonic performance and unique handling will be delighted to add the Rognir to their collection. 
You can purchase the Kennerton Rognir Limited First Edition at Audio46
Compare the ranking of various headphones, earbuds and in-ear monitors using our tools.
Discuss this, and much more, over on our forum.
---
MAJORHIFI may receive commissions from retail offers.