Here at MajorHiFi, we have been long awaiting the arrival of the Sony WH-1000xM2. The first time around, the original WH-1000x blew us away with its noise cancelling technology, impressive functionality features, and great sound quality. Since its release, other brands have been stepping up their game too, creating highly functional, aesthetically pleasing noise cancelling, Bluetooth headphones. So where does the new Sony WH-1000xM2 stand in the new sea of competition? Today, I'll aim to find out with this Sony WH-1000xM2 wireless noise cancelling headphones review.
Sony WH-1000xM2 Wireless Noise Cancelling Headphones Review
In the Box
-Sony WH-1000xM2 wireless noise cancelling headphones
-Semi-hard shell carrying case
-Airplane adapter
-Audio cable
-USB charging cable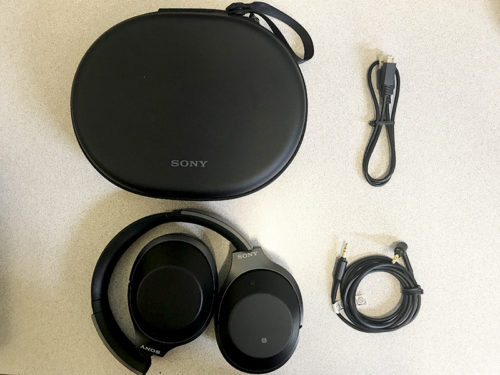 Features
Just like the original Sony WH-1000x, the second version is full of features. My favorite of them all is called Quick Attention. Simply by raising your hand to the right earcup, the noise cancellation modes switches to ambient noise. This feature works flawlessly and proves to be useful, which is probably why it has gone untouched since the original version of the headphone.
In fact, many of the features were brought over from the original WH-1000x: the connection to the Sony Connect App, Ambient Sound Control, ear cup Touch Control. One difference between the two headphones is the Smart Listening by Adaptive Sound Control feature. In an ideal world, this function is supposed to change the noise cancelling mode when it detects your movement. For example, when you're walking, the headphones are suppose to decrease the noise cancelling amount so you can be aware of your surroundings. In reality, however, this function is inconsistent and overall, not sensitive enough. It took about 20 seconds to notice I was walking the first time I tried it. After that, it was unresponsive altogether and relied on me turning the function on and off again.
Additionally, the Sony WH-1000xM2 supports higher resolution Bluetooth codecs like aptX, aptX HD.  Audiophiles rejoice! Lastly, the battery has a significantly longer life than the original version. Sony claims it will last 30 hours with noise cancelling on or 38 hours with noise cancelling off, all with continuous playback. I haven't checked this battery life myself, but due to the long life of the original, I trust Sony's word.
Lastly, one new feature is the Atmospheric Pressure Optimizing function found in the Sony Connect App. I didn't notice much difference between before and after employing the feature, but I imagine it would make more of a difference while flying.
Design
The design and look of the Sony WH-1000xM2 isn't much different than the original, although the earpads seem to be a little bulked up. The headphones are extremely comfortable, but don't fit as well for folks with smaller heads. I'm continually impressed with the level of sound isolation given that the headphones don't squeeze the head at all.
Sound
The Sony WH-1000xM2 has good sound quality in line with Sony's sound signature in general. It has a very thick low end which flatters certain genres over others. Hip-hop, pop, and EDM sound great. However, genres that rely more on mid-range definition like orchestral, jazz, bluegrass, etc don't sound as natural. And while this fact may turn off some folks, the sound quality overall beats most other headphones with this level of noise cancelling. While the noise cancelling contributes to making the sound feels slightly more compressed, I'm impressed overall with the amount of space left intact.
Overview
The Sony WH-1000xM2 wireless noise cancelling headphones have strong noise cancellation with good sound quality. And while not all of their features work perfectly, the ones that matter the most work superbly well. The sound quality favors the low frequencies, making these headphones ideal for folks who especially like hip-hop, pop, and EDM.
The Sony WH-1000xM2 is available for the best price here:
MajorHiFi may receive commission through retail offers.
Specifications
Size and Weight
Weight: Approximately 9.7oz
General Features
Headphone Type: closed, dynamic
Driver Unit: 1.57", dome type (CCAW Voice Coil)
Magnet: Neodymium
Impedance: 46 ohm (1kHz) (when connecting via the headphone cable with unit turned on); 14 ohm (1kHz) (when connecting via the headphone cable with the unit turned off)
Diaphragm: Aluminum coated LCP
Frequency Response: 4Hz-40kHz
Active Operation Frequency Response: 4Hz-40kHz
Bluetooth Communication Frequency Response: 20Hz-20kHz (44.1 kHz Sampling)/ 20 Hz-40kHz (LDAC 96 kHz Sampling, 990 kbps)
Sensitivity: 103 db/mW (1 kHz) (when connecting via the headphone cable with the unit turned on). 98 dB/mW (1kHz) (when connecting via the headphone cable with the unit turned off)
Volume Control: Touch Sensor
Cord Type: single-sided (detachable)
Cord Length: Headphone Cable (approximately 4.92′, OFC strands, gold-plated stereo mini plug)
Plug: Gold-plated L-shaped stereo mini plug
Inputs: Micro USB, stereo mini jack
Wearing Style: Circumaural
NFC: Yes
DSEE HX: Yes
S-Master: Yes
Passive Operation: Yes
Battery
Charge Time: approximately 4 hours
Charge Method: USB
Battery Life (continuous music playback time): Maximum 30 hours (noise cancelling on), maximum 38 hours (noise cancelling off)
Battery Life (waiting time): maximum 40 hours (noise cancelling on), maximum 200 (noise cancelling off)
Bluetooth Specifications
Bluetooth Version: Version 4.1
Effective Range: line of sight, approximately 30 feet (10 m)
Frequency Range: 2.4 GHz band
Profile: A2DP, AVRCP, HFP, HSP
Supported Audio Formats: SBC, AAC, aptX, aptX HD, LDAC
Supported Content Projection: SCMS-T
Noise Canceling
Noise Canceling On/Off Switch: yes
Automatic AI Noise Canceling: yes
Personal NC Optimizer: yes
Atmospheric Pressure Optimizing: yes
Ambient Sound Mode: yes
Quick Attention: yes
Compare the ranking of various headphones, earbuds and in-ear monitors using our tools.
Discuss this, and much more, over on our forum.
---
MAJORHIFI may receive commissions from retail offers.